Whil many asked the following: does boiling water purify it, it seems that some clarification is needed. Well, in short, the answer is somewhat yes – somewhat no. First, let's review recent news to determine what the answer to does boiling water purify it – is.
Typical notice on how boiling water to purify would have a impact on many communities: A Highland County village in Ohio told residents to boil their water because of a possible contamination in it's water supply.
The Greenfield Water Plant Operator, said the boiled water advisory would be in effect for all residents and businesses within the Greenfield village and other areas served by the Greenfield Water Plant.
How does boiling water purify it
According to Rick Curtis (Backpackers Field Manual, Amazon):
Boiling is the most certain way of killing all microorganisms.
For Water Wise Portable Water Boiling Distiller 1600
Click Here
Water temperatures above 160° F (70° C) would, according to the Wilderness Medical Society, kill all pathogens within half hour, and water with temperatures above 185° F (85° C) will kill all pathogens within a few minutes.

So in the time it takes for the water to reach the boiling point (212° F or 100° C) from 160° F (70° C), all pathogens will be killed, even at high altitude.

To be extra safe, let the water boil rapidly for one minute, especially at higher altitudes since water boils at a lower temperature
So you might assume that all you need to do is simply get your water boiled to purify it. – Right?
Not really.

Although parasites that might be found in your drinking water will most likely be killed when you have the water boiled long enough. In addition, Boiling your water will chase out some of the VOCs (Volatile Organic Compounds) that also might be present.
While boiling to purify water would work fine to make water that is contaminated with living organisms safe to drink, but because of the inconvenience, it is not routinely used to purify drinking water except in emergencies, or while done with a water distiller (which boils the water to provide you with fresh distilled water).
Boiling also does not remove many other water contaminants and boiling is liable to concentrate contaminants that do not vaporize (like asbestos, lead, mercury, and many toxic organic chemicals) as the relatively pure water vapor boils off.
Continuing the above news release … He also said one of the eight water wells serving the village tested positive for fecal coliform, or E. coli bacteria. Users are now advised to the old advice of boiling tap water, although the contaminated well, along with two others, are no longer in use until the problem is solved.
The village said that since we assume that, the answer for does boiling water purify it is yes, bottled water should be used for drinking, brushing teeth, washing dishes and food preparation until further notice.
The village said to be treating the water with chlorine. They did not know from where the contamination originated. Question remains: does boiling water purify it with chlorine or with other methods.
To Which Effect Does Boiling Water Purify It
Related topics to does boiling water purify it, are does boiling water remove chlorine and does boiling water remove fluoride.
A boil order has been issued to your water system because either recent testing has shown the presence of organisms that could cause illness (e.g. fecal or E. coli bacteria), or technical/physical problems in the water system have significantly increased the possibilty of bacterial contamination.
In regards to how good does boiling water purify it the following is posted here:
Boiling the water is the best way to ensure that it is free of illness-causing organisms. Bring water to a rolling boil for a minimum of one minute. When it cools, refrigerate the water in clean containers. (A pinch of salt per quart may improve the rather flat taste of boiled water). If you do not want to boil your water, you can disinfect it by adding 1/8 teaspoon of bleach (common household bleach containing 5.25 percent sodium hypochlorite) per gallon of water. Do not use bleach containing perfume, dyes, or other additives.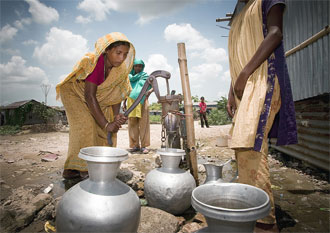 does boiling water purify it with micro-biologic effectiveness
In Indonesia, where diarrhea remains a major cause of mortality among children <5 years, the government promotes boiling of drinking water. We assessed the impact of boiling on water quality in South Sulawesi. We surveyed randomly selected households with at least one child <5 years old in two rural districts and tested source and stored water samples for Escherichia coli contamination. Among 242 households, 96% of source and 51% of stored water samples yielded E. coli. Unboiled water samples, obtained from 15% of households, were more likely to yield E. coli than boiled samples
Updated status on treatment, and does boiling water purify it
New Jersey American Water announced Temporary Water Treatment in 6 NJ Counties.
(Feb. 1, 2012) As part its annual pipeline maintenance program, NJ American Water temporarily changes the water treatment industry process at its Raritan-Millstone Water Treatment Plant and its Canal Road Water Treatment Plant from a chloramine water filter system (a combination of ammonia and chlorine) to free chlorine.
Begining Feb 1, 12 until the end of March, customers may notice an increase in the taste and smell of chlorine in their water. Again, many might ask again does boiling water purify it or not. NJ American Water will continuously monitor water quality to ensure that it meets or exceeds federal and state drinking water standards.
For Safe Boiling Water With the WaterWise Distiller 8800 ON SALE
Click Here